Camino Encounters Water Book.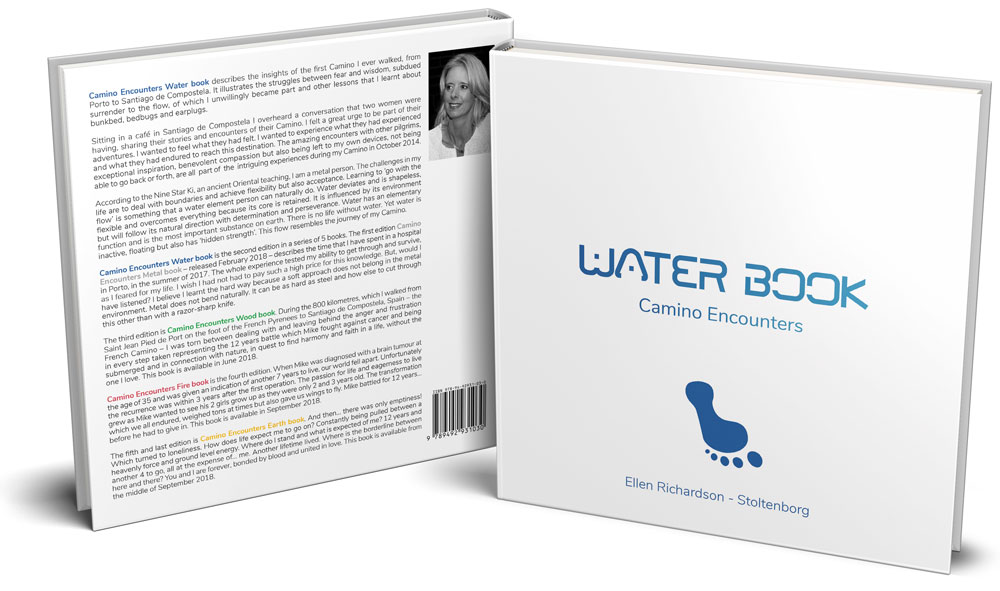 Camino Encounters Water book is the second edition. This book contains the insights of the first Camino that I walked, in October 2014, from Porto to Santiago de Compostela. It illustrates the struggles between fear and wisdom, subdued surrender to the flow of which I unwillingly became part of and other lessons that I learnt about bunkbeds, bedbugs and earplugs. The amazing encounters with other pilgrims, exceptional inspiration, benevolent compassion but also being left to my own devices, not being able to go back or forth, are all part of the intriguing experiences.
Sitting in a café in Santiago de Compostela I overheard a conversation that two women were having, sharing their stories and encounters of their Camino. I felt a great urge to be part of their adventures. I wanted to feel what they had felt. I wanted to experience what they had experienced and what they had endured to reach this destination.
According to the Nine Star Ki, an ancient Oriental teaching, I am a metal person. The challenges in my life are to deal with boundaries and achieve flexibility but also acceptance. Learning to 'go with the flow' is something that a water element person can naturally do. Water deviates and is shapeless, flexible and overcomes everything because its core is retained. It is influenced by its environment but will follow its natural direction with determination and perseverance. Water has an elementary function and is the most important substance on earth. There is no life without water. Yet water is inactive, floating but also has 'hidden strength'. This flow resembles the journey of my Camino.