Camino Encounters Wood Book.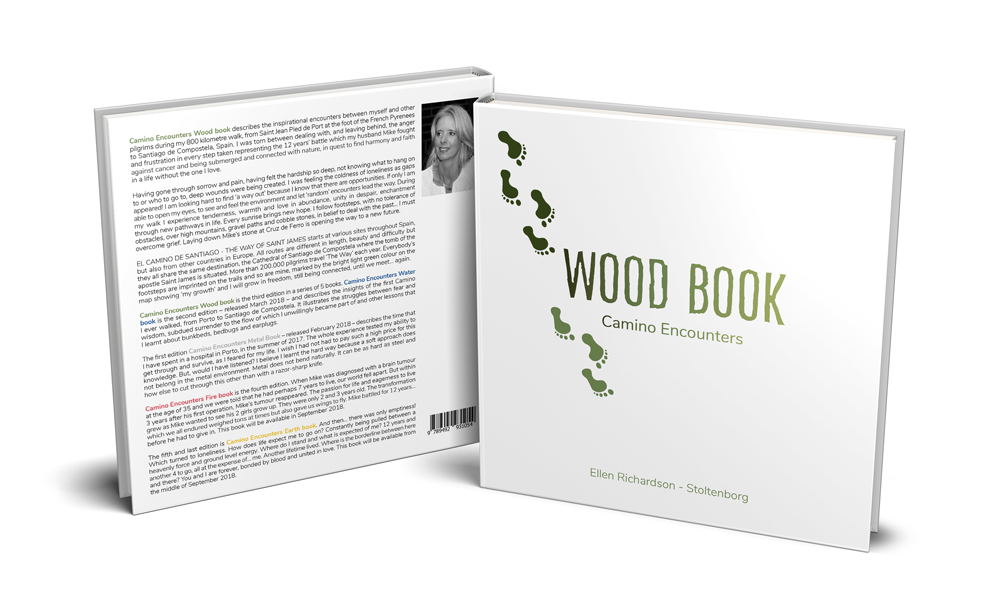 Camino Encounters Wood book is the third edition and describes the inspirational encounters between myself and other pilgrims during my 800 kilometre walk from Saint Jean Pied de Port at the foot of the French Pyrenees to Santiago de Compostela, Spain. I was torn between dealing with, and leaving behind, the anger and frustration in every step taken representing the 12 years' battle which Mike fought against cancer. I was submerged and connected with nature, in quest to find harmony and faith in a life without the one I love.
Having gone through sorrow and pain, having felt the hardship so deep, not knowing what to hang on to or who to go to, deep wounds were being created. I was feeling the coldness of loneliness as gaps appeared! I am looking hard to find 'a way out' because I know that there are opportunities. If only I am able to open my eyes, to see and feel the environment and let 'random' encounters lead the way. During my walk I experience tenderness, warmth and love in abundance, unity in despair, enchantment through new pathways in life. Every sunrise brings new hope. I follow footsteps, with no tolerance of obstacles, over high mountains, gravel paths and cobble stones, in belief to deal with the past… I must overcome grief. Laying down Mike's stone at Cruz de Ferro is opening the way to a new future.
EL CAMINO DE SANTIAGO – THE WAY OF SAINT JAMES starts at various sites throughout Spain, but also from other countries in Europe. All routes are different in length, beauty and difficulty but they all share the same destination, the Cathedral of Santiago de Compostela where the tomb of the apostle Saint James is situated. More than 200.000 pilgrims travel 'The Way' each year. Everybody's footsteps are imprinted on the trails and so are mine, marked by the bright light green colour on the map showing 'my growth' and I will grow in freedom, still being connected, until we meet… again.